Vysočina
is located
in the heart of Europe
, on the border between Bohemia and Moravia. The region is remarkable for its
spectacular and unspoiled landscape
and the
unforgettable scenery
of the Bohemian-Moravian Highlands that cover most of the region.
Many places in Vysočina are protected by law as natural reserves or cultural monuments. One of the most renowned is the Žďár Hills Natural Reserve (CHKO Žďárské vrchy). Its weathered gneiss rock formations and boulder screes, large areas of deep forest, and endangered species of wet-peat plants are among the greatest treasures of the region. Unique sceneries can be found at many places. The deep gorge of the Doubrava River valley is an unforgettable experience, bordered with granite rocks that tower above the river as high as 60 metres, while the river itself flows through a myriad of waterfalls and rapids. Completely different scenery can be found at the Moheleno Serpentine Steppe (Mohelenská hadcová step). The underlying serpentine rocks of this area create the ideal conditions for unique flora and fauna.
Doubrava river valley (author: Milan Vacek)
The highest peaks of the Vysočina Region are Javořice Mountain (837m / 2,746ft) in the southwest and Devět Skal Mountain (836m / 2,743ft) in the Ždár Hills in the northern part of the region. Ponds and lakes have been part of the Vysočina Region since time immemorial. During the 19th and 20th centuries, a number of dams were built, creating reservoirs, some of which are used for drinking water, and others have even become popular tourist resorts. The Vysočina Region is part of the "roof of Europe" – water springs are abundant here and form a rich net of streams throughout the whole area.
A trip to Vysočina is a trip to unspoiled countryside, clean fresh air, and the tranquillity of deep forests.
The magic of Vysočina also lies in its cultural and historic heritage. Many important architects, sculptors, and painters of the past created artistic gems which have been preserved until today. Vysočina offers a variety of romantic chateaux and majestic castles. A walk through the countryside reveals castle ruins, lookout towers, examples of rural architecture, and other architectural monuments. Sacral places of interest are present everywhere, as well as historic buildings connected with Jewish settlements.
Vysočina prides itself on sites registered by UNESCO World Heritage Fund. There are fourteen World Heritage Sites in the Czech Republic, three of them are located in Vysočina - Historic Centre of Telč, Pilgrimage Church of John of Nepomuk at Zelená Hora and Jewish Quarter and St Procopius' Basilica in Třebíč.
Vysočina – The Heart of the Czech Republic
Vysočina's diverse landscape forced its inhabitants to create over a thousand small settlements, all connected by a rich network of roadways. Small villages are characteristic for Vysočina, and most are located around small towns with populations of three to ten thousand people. Only four cities have a population of more than twenty thousand people, and the regional capital Jihlava has fifty thousand inhabitants.
The Vysočina Region comprises five districts (Jihlava, Třebíč, Ždár nad Sázavou, Havlíčkův Brod, and Pelhřimov). In the south, the Vysočina Region comes close to the border with Austria, but it does not form the border with Austria directly. Vysočina is characterised by the diversity of its landscape, higher altitude, and its relatively low population density (about 75 people per km2 (195 people per sq mile)). With a total population of around 510,000, Vysočina has the third lowest population among regions in the Czech Republic.
Strategic location is an another advantage of Vysočina. The D1 highway crosses the entire region, including the regional capital city Jihlava. Whether you travel from Prague (120km / 75miles) or from Brno (90km / 56miles), the journey takes just about one hour, depending on your destination within the region. Thanks to this important highway, all places within the Vysočina Region are connected with other important Czech cities (Zlín, Ostrava, Olomouc, Pilsen), as well as with international airports. Jihlava has always been an important travel spot on the route from Vienna to Prague.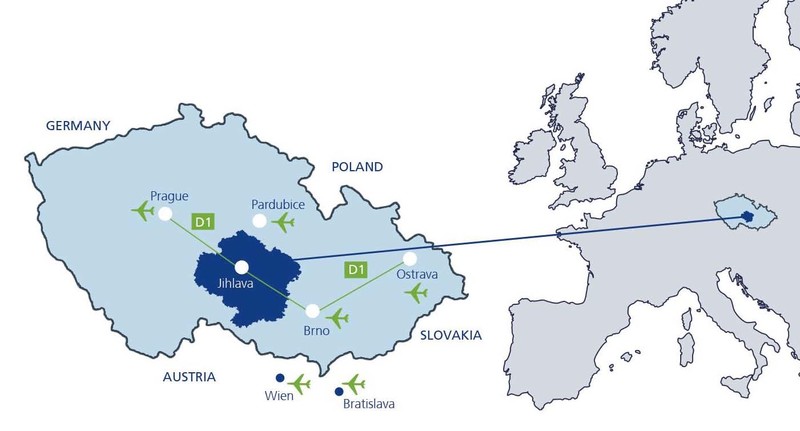 Vysočina is a Great Actor
If Vysočina were an actor, we could say it has played many different roles in numerous films and it has preserved its unique charm and diversity. Thanks to the low population density, the lovely hilly landscape, and the numerous historic sites, Vysočina has enchanted many filmmakers.